Programmable Thermostat Sale
To order thermostats, or to get pricing on other HVAC equipment, parts and supplies please phone 936-582-4616 or fax POs and RFQs to 936-448-4699. Special discounts are available for government agencies and high volume end users.
In addition to the programmable thermostats shown below, FMW Distributors offers dozens of other thermostats from Honeywell, Robertshaw, PSG Controls Accustat, Johnson Controls, Tekmar and Lux Products. If the model you are looking for is not listed, please call for pricing.
FMW Distributors only sells to other businesses, government agencies and general contractors. Unfortunately, we do not sell to the general public and cannot drop ship orders to residential addresses, except for orders placed by general contractors. If shipment is made to a general contractor's residential address, a resale certificate must be faxed prior to placing an order.
---
<![if !vml]>

<![endif]>
Honeywell M/N THX9321R5000 24 VAC Hardwired Prestige Color Touchscreen HD Thermostat

High-Definition, Full Color Display

Temperature Control on Demand

All-In-One Control

Outdoor Temperature/Humidity

Interview-Based Programming

7-Day Programming

Energy Savings

Simple Touchscreen Technology

Tri-Lingual

Available in HD

5-Year Warranty
---
<![if !vml]>

<![endif]>
Honeywell M/N THX9321R1008 Prestige HD 7-Day Programmable Home Comfort System

---
<![if !vml]>

<![endif]>
Honeywell M/N TH6320R1004 Programmable Wireless FocusPro Thermostat

Powered by RedLINK reliability

No interference with other wireless devices in the home

Works with compatible RedLINK enabled devices

Same great features of the FocusPRO« thermostat now wireless

5-2 Day, 5-1-1 Day Programming

2 Heat/2 Cool; 3 Heat/2 Cool Heat Pump

Installs in minutes

Can display outdoor temperature and humidity

1 year battery life

2 month low battery warning
---
<![if !vml]>

<![endif]>
Robertshaw M/N 9600 Economy Programmable Thermostat

The perfect thermostats for affordable temperature control.

Engineered to meet the most demanding heating and cooling needs

1 Heat / 1 Cool, Gas/electric systems

5-2 Day Programming

Rh, Rc, W, Y, G Terminations

Single or Dual Transformer System, Battery Powered
---
<![if !vml]>

<![endif]>
Robertshaw M/N 9610 Economy Programmable Thermostat

The perfect thermostats for affordable temperature control.

Engineered to meet the most demanding heating and cooling needs

1 Heat / 1 Cool Gas/Electric Systems, Single Stage Heat Pumps

7 Day w/Quickset

Rh, Rc, W, Y, G, O, B Terminations

Single or Dual Transformer System, Battery Powered

ENERGY STAR
---
<![if !vml]>

<![endif]>
Robertshaw M/N 9620 Economy Programmable Thermostat

The perfect thermostats for affordable temperature control.

Engineered to meet the most demanding heating and cooling needs

2 Heat / 2 Cool Heat Pump Systems

7 Day w/Quickset

C, L, R, E, W2, Y1,Y2, G, O, B Terminations

Common Required, Battery back-up

ENERGY STAR
---
<![if !vml]>

<![endif]>
Robertshaw M/N 9615 Economy Programmable Thermostat

The perfect thermostats for affordable temperature control.

Engineered to meet the most demanding heating and cooling needs

2 Heat / 2 Cool Gas/Electric Systems

7 Day w/Quickset

C, R, W1, W2, Y1,Y2, G, O, B Terminations

Common Required, Battery back-up

ENERGY STAR
---
<![if !vml]>

<![endif]>
LuxPro M/N PSP711RF Programmable Thermostat, Remote Controlled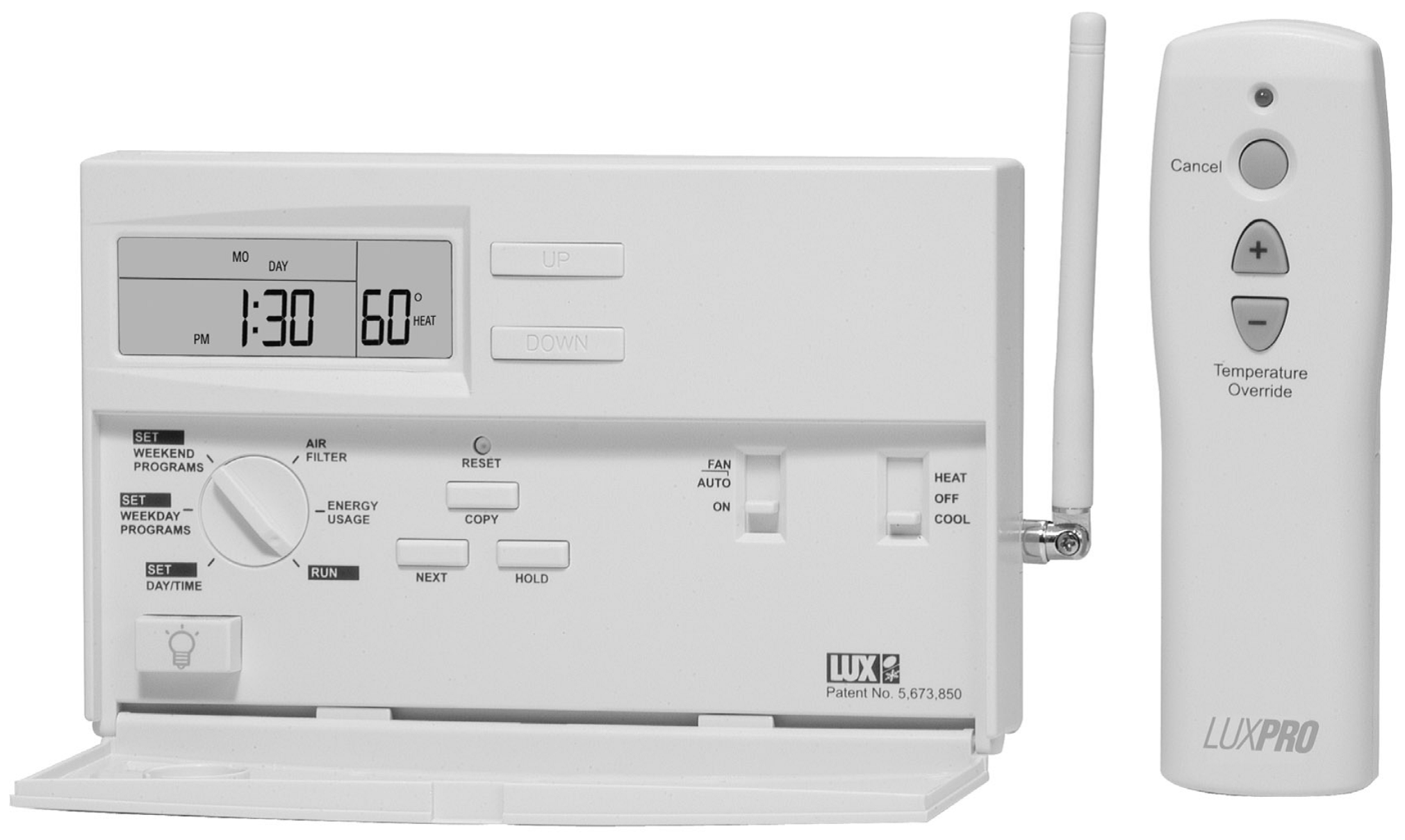 Remote Controlled Temperature Control From Anywhere in House

Easy Programming with LUX Speed Dial

7 Day Programming - 4 Periods Per Day

Smart Recovery

Lighted Display

Vacation Hold

Keyboard Lockout

2 or 5 Minute Delay

Temporary Temperature Override

Fahrenheit or Celsius Temperature Display

12/24 Hour Clock

Low Voltage (24 Volt) Systems

Single Stage Heat Pumps

High Efficiency Systems

Millivolt Systems (Wall Furnace)

1 Heat/1 Cool Heating and Air Conditioning Systems, Gas, Oil or Electric Heating Systems

ENERGY STAR
---