Premaire PTAC Units
FMW Distributors offers excellent pricing on all Premaire PTAC units. Nine (9) different models available, which include a variety of cooling, cool/heat and heat pump options: 7,000 BTU, 9,000 BTU, 12,000 BTU and 15,000 BTU; 2 KW (7,000 to 9,000 BTU units), 3 KW (7,000 to 15,000 BTU units) and 5 KW (12,000 to 15,000 BTU) heat strips.
FMW Distributors only sells to other businesses, government agencies and general contractors. Unfortunately, we do not sell to the general public and cannot drop ship orders to residential addresses, except for orders placed by general contractors. If shipment is made to a general contractor's residential address, a resale certificate must be faxed prior to placing an order.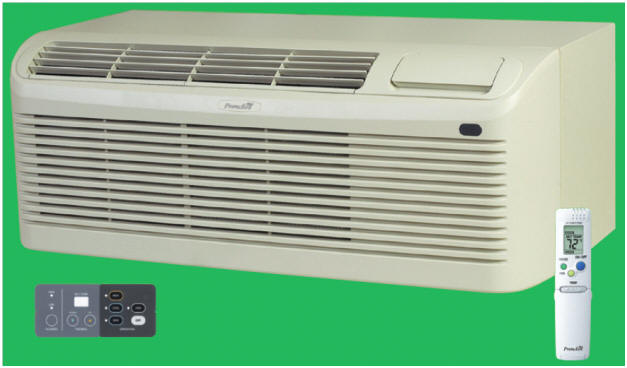 • Easy to Operate Touch Panel Control

• Energy Efficient Operation with High EER

• Hand Held Remote Control (Optional)

• Quiet 2 Fan Motors Operation

• Microprocessor Control

• Dry Operation

• Fan Cycle Function

• 2-Way Adjustable Discharge Louver

• Front Desk Control Capability

• Wired & Wireless Remote Control Capability

• Temperature Limiting Function

• Random Restart Circuit

• Automatic Emergency Heat (H/P Only)

• Compressor Restart Function

• Switching Fahrenheit to Celsius

• Self Diagnostic Function

• Overload Prevention

• Fan Speed Selector

• High Pressure Switch

• Load Shedding Control Capability
---
Requests For Quotes
RFQs may be faxed to 936-448-4699.
Quotes will be responded to within 24 hours.
If you have an emergency RFQ, please phone 936-582-4616.
---