Natural/Propane Gas Unit Heaters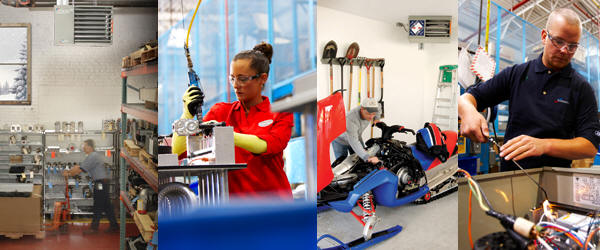 Modine offers a number of gas fired unit heaters for any budget and input required. The newest edition to our product line is the Effinity93, the most efficient gas fired unit heater in North America. Modine also offers residential and commercial separated combustion heaters featuring a tubular primary heat exchanger.
For those looking for a time-tested, proven, clam-shell heat exchanger unit, Modine still makes those as well. And certified for residential use is the top brand in garage heating, the Hot Dawg.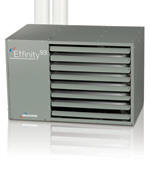 Effinity93 with Conservicore Condensing Unit Heater (Model PTC) - The most efficient gas fired unit heater in North America! With six models available - from 135,000 to 310,000 BTU/hr - all operating at 93% efficiency, the Effinity93 will dramatically lower gas consumption, saving energy cost, as well as CO2 emissions, saving the environment.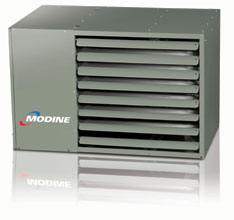 Separated Combustion Unit Heater (PTS/BTS, HDS/HDC) - Separated combustion unit heaters obtain 100% of their combustion air from outside, ensuring that nothing but clean, fresh air is burned in the combustion chamber. This fresh-air supply reduces common concerns about maintenance, performance and durability, especially in dusty, dirty or humid applications. It also increases the overall heating efficiency. Available in commercial (PTS/BTS) and residential Hot Dawg sizes (HDS/HDC), with both blower and propeller units available.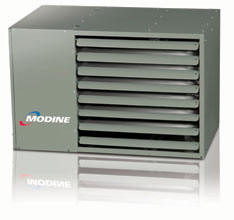 Horizontal Power Vented Unit Heater (PTP) - The PTP-series delivers 80% thermal efficiency in a robust package of design features. The PTP features a stainless steel tubular heat exchanger as standard on all units with a 10-year heat exchanger warranty providing customers with a peace of mind. Users of the PTP will also benefit from a design that allows quick and easy installations.

Vertical Power Vented Unit Heater (PDP/BDP) - Inexpensive to install, easy to use and time tested for quality and durability. Our commercial grade power vent unit heaters come with either a propeller fan or centrifugal blower fan in seven different sizes, ensuring that no matter your heating and airflow needs, we got you covered.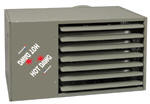 Hot Dawg Low Profile Unit Heater (HD/HDB) - For applications requiring a low profile unit, Modine offers the popular Hot Dawg® unit heater. Certified for residential use, as well as commercial applications, the Hot Dawg may be installed just one inch below the ceiling. This is the ideal solution for heating garages or workshops. The superior quality, matched with the powerful Hot Dawg brand, make it an easy choice for a variety of applications.