Mallory Sonalert® Audible Signal Devices
For exceptional prices on Mallory Sonalert® audible alert siren products, phone 936-582-4616, or fax RFQs to 936-448-4699.
FMW Distributors only sells to other businesses, government agencies and general contractors. Unfortunately, we do not sell to the general public and cannot drop ship orders to residential addresses, except for orders placed by general contractors. If shipment is made to a general contractor's residential address, a resale certificate must be faxed prior to placing an order.
The Mallory Sonalert® produces an audible tone by internally creating an oscillating signal which drives a piezo ceramic transducer mounted in a sound chamber. Various types of continuous and intermittent tones are available from the Mallory Sonalert® product line.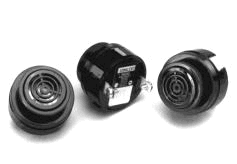 Self driven piezo ceramic transducers are superior to electro-magnetic buzzers because they produce no arcing, electrical noise, or mechanical wear during operation. They are more reliable and operate more consistently during their operating life and are able to produce many more types of tones compared to buzzers. Additionally, the Mallory Sonalert® can be actuated by AC and DC power signals and has several mounting configurations and terminations available.
---
Requests For Quotes
RFQs may be faxed to 936-448-4699.
Quotes will be responded to within 24 hours.
If you have an emergency RFQ, please phone 936-582-4616.
Minimum order for Mallory is $150 and quantity minimums may also apply.
---